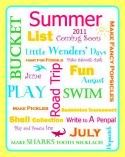 I just learned about a fun blog meme (through
Mouse Learns Mouse Grows
) called
Summer Bucket List
hosted by
Little Wonders' Days
.
I made a list of things I wanted to do one fall, and it made it much easier to remember what I wanted to do. Writing goals down helps us to achieve them. So here's hoping that writing down these goals will help us achieve them. (I'm sure I'll add to them as summer gets closer.
Set up the inflatable pool asap and use it often. (Monkey Georgia has been asking to set it up for 2 weeks already - regardless of the fact that it's raining and in the 50s).
Participate in our county's summer reading program.
Participate in Louisville's summer reading program (next county over).
Grow a sunflower garden.
Have a cookout for Memorial Day.
Go on the train ride at the Kentucky Railway Museum (already got our tickets).
U-pick blackberries
U-pick blueberries
Do something fun with grandparents when they visit.
Build a fairy house.
Set up a nature table for summer.
Make lemonade from real lemons.
See Harry Potter 7 Part 2 (just Uhn Gi and I - not Monkey Georgia).
Go to our zoo.
Go to Henry's Ark.
Celebrate our 10th wedding anniversary.
Catch fireflies.
Make homemade ice cream.
Plant our vegetable garden
Do some canning (soup, jam, tomatoes,etc)
What will be on your summer bucket list?